Here are the strongest African currencies. It is not enough to have a nice looking currency in today's world. The play of economic concepts both on the local and international scenes lead to strong or weak currencies and some African currencies have certainly shone in 2017. In this article we consider the strongest African currencies in 2021.
In a continent where we have a country like Zimbabwe that is currently devoid of a real currency, whose citizens have to rely on either the US Dollar or the South African Rand to go about their daily opportunities, we still have African currencies that manage to pull their own weight alongside some of the world's strongest currencies.
The strength of a currency is determined by a number of factors that include; supply and demand, market forces within the country, inflation and, of course, the foreign exchange market.
The United States dollar is considered one of the strongest currencies in the world and is, therefore, an appropriate benchmark with which to measure the strength of some African currencies. Surprisingly, the Libyan dinar made this list despite the continued tensions in the region in the last half-decade.
For 2021, here are the strongest African currencies;
The South African Rand
Despite a rough year, packed by scandals in leadership that have directly and indirectly affected the Rand, South Africa's official currency is still pretty strong. President Zuma's continuous shuffling of finance ministers notwithstanding, the South African Rand, still manages to exchange at an average rate of 14 Rand for every dollar.
South Africa, therefore, continues to be one of Africa's strongest economies and even President Jacob Zuma cannot seem to bring it down.
Botswanan Pula BWP
Botswana's official currency is the pula which currently exchanges at 10 Botswanan pula for $1. The strong currency is just one more way that Botswana continues to shine on the African continent. It is already regarded as a country with one of the highest Human Development Indexes (HDI) on the continent and unlike most African countries with only one source of government revenue, mining, cattle ranching, and the service sector all contribute to the government's coffers.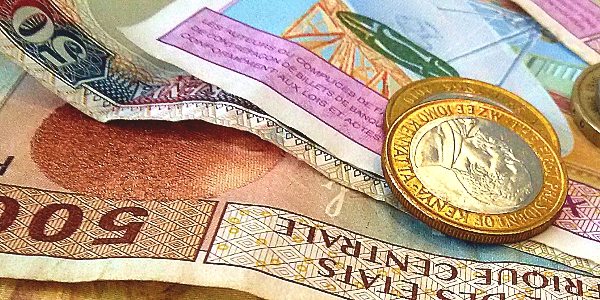 Moroccan Dirham MAD
Morocco with its focus on tourism, manufacturing and agriculture features on this list of strong African currencies with 9.9 Moroccan dirhams exchanging for $1.
Zambian Kwacha ZMW
The official currency of Zambia is known as kwacha. The country's economy is mainly agrarian with a little extra revenue streaming in from its tourism sector. The exchange rate, however, on average is 1USD for about 9.84 Zambian kwacha making it a rather valuable African currency.
Sudanese Pounds SDG
One of the shocking inclusions on this list is the Sudanese Pounds. Surprising, because a country that has suffered through decades of civil war still manages to keep its currency valuable. The country does this through a series of re-evaluations. The most recent of these re-evaluations occurred in 2011 and $1 currently exchanges for 6.4 Sudanese pounds despite crude oil exports remaining the major source of government revenue.
Ghanaian Cedis
The only country from West Africa that managed to make it to this list of top 7 strongest African currencies in 2017 is Ghana. With 4.53 Ghana cedis exchanging for $1 it is the second most valuable currency in Africa. Still considered one of the strongest democracies in Africa, Ghana is certainly managing its economy well.
Libyan Dinar
The Libyan dinar is by all accounts still the strongest currency in Africa based on its exchange rate to the US dollar and its purchasing power. One dollar exchanges for only about 1.36 Libyan dinars. Analysts say that the currency has been helped by Libya's extensive oil reserves but also because the country plays a strategic role as a gateway for African migrants hoping to enter Europe.